Thanks to everyone who joined us on August 22 and 23, 2014 for the 4rd Annual Dallas Mineral Collecting Symposium.
2014 Speakers
The Great Oxidation Event – Diversity of Colorful Mineral Species
Dr. Robert Hazen
Biography
Adventures in Mexico's Great Specimen Mines
Dr. Peter Megaw
Biography
The Milpillas Mine, Sonora, Mexico – A Modern Bonanza
Evan Jones
Biography
Thumbnail Specimens: Little Treasures – Collecting and Competing
Dr. James Houran
Biography
Red Cloud – The World's Greatest Wulfenite Locality
Les Presmyk
Biography
Origin of Precious Metal Deposits – Mines That Produce World-Class Collectible Specimens
Dr. David Mustart
Biography
Gold Rush – California's Crystallized Gold Specimens
Dr. Robert Cook
Biography
Gold Fever – Monster Gold Nuggets of Victoria's Golden Triangle
Tony Fraser
Biography
---
The Dallas Mineral Collecting Symposium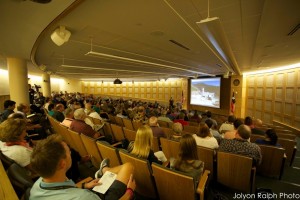 Saturday, August 23
Southern Methodist University

World-class speakers presented on a variety of mineral topics.
View the list of speakers and their biographies.
---
Social Events
The Arkenstone Gallery Open House
Friday, August 22

The Arkenstone once again hosted an open house at their gallery in Richardson, Texas. An evening of mineral gazing, drinks, and light dinner set the tone for the weekend.
The Perot Museum of Nature and Science
Dessert and Drinks Social
Saturday, August 23
After a day of mineral talks, guests relaxed in the beautiful and relaxing Lyda Hill Gems and Minerals Hall at the Perot Museum among world-class minerals and gemstones.