The Dallas Symposium officially started as an opening party for The Arkenstone's new gallery outside of Dallas, Texas, but as the weekend has grown in popularity, so have the educational and social opportunities.
With over 200 guests again this year, the 2014 Dallas Symposium, held August 22-23, continued to amazing guests.
The Dallas Mineral Collecting Symposium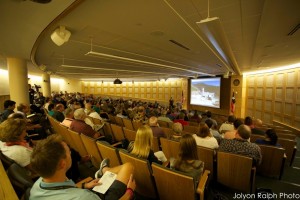 Saturday, August 23
Southern Methodist University
Collins Center, Cox School of Business
9AM-5PM 
World-class speakers presented on a variety of mineral topics. View the list of speakers and their biographies.
Social Events
The Arkenstone Gallery Open House
Friday, August 22
Richardson, Texas
5PM-10PM
The Arkenstone once again hosted an open house at their gallery in Richardson, Texas. An evening of mineral gazing, drinks, and light dinner set the tone for the weekend.

The Perot Museum of Nature and Science Dessert and Drinks Social
Saturday, August 23
7:30-9:30PM
After a day of mineral talks, guests relaxed in the beautiful and relaxing Lyda Hill Gems and Minerals Hall at the Perot Museum among world-class minerals and gemstones.