Biography
Dr Robert Bowell holds first class honours degrees in geochemistry from Manchester University and a PhD from Southampton University. He has worked in the mining industry for 28 years for TCL, Goldfields, Ashanti, BHP and  SRK Consulting.  He is currently Corporate Consultant at SRK.  Rob's mineral collection covers places he has worked or visited and he has minerals from 115 countries.  He specializes in micromounts, minerals from Africa (especially Tsumeb) and pyromorphite group and apatite group minerals.  He currently spends his time split between projects in Namibia, Zambia and Niger and his home base in the UK. He has spent a significant amount of time working at the famous Tsumeb mine and will lend his expertise to help us learn about fine minerals from this African mine.
Tsumeb: A Mineralogical Paradise!
T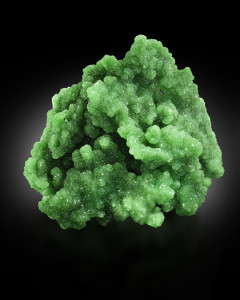 he Tsumeb mine is one of the world's most celebrated occurrences of base metal minerals, particularly those containing arsenic. Approximately 325 minerals are characterized from there, of which for 69 it is the type locality and 14 are only known from there. Despite the fact the mine closed in 1996, new minerals are still being identified on material collected from the mine and a large study is currently in progress in Namibia to better characterize this deposit. However for collectors the real value comes in the world class specimens, available in quite large numbers with Tsumeb boasting the possible best of species for a range of minerals including; anglesite, azurite, bayldonite, cerussite, cuprian adamite, dioptase, duftite, germanite, leadhillite, mimetite, Molybdofornacite, phosgenite, scorodite, smithsonite, tennantite, willemite, wulfenite to name just a few.