As a special finale to the 2015 Dallas Symposium, two of our Africa experts, Dr. Robert Bowell and Dr. Bruce Cairncross will be teaming up to present our final talk. With their combined knowledge of copper minerals, this is sure to be a great way to end the day!
Darkest copper: Classic and Contemporary Copper Minerals of Note from Africa
Africa has produced many fine copper minerals from sulfides and silicates through to native copper.  The first European mining activity took place in South Africa in the late 18th Century, in the current Northern Cape Province. These exploited copper and many fine copper-bearing species were collected during the late-19th Century and in more recent times when the mines were still active.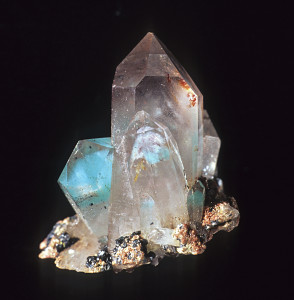 This talk will provide a snap shot of classic and current localities in Southern and Central Africa that are well known for producing quality mineral specimens. The Messina mine in South Africa will be featured as will the Okiep copper district.The talk will then move on to Dioptase and Shattuckite localities in the Kuene of Namibia, Copper and Cuprite from Onganja and finally a brief trip to the central Copperbelt where fine Azurite, Libethenite, Malachite and a host of copper-uranium secondary minerals can be sort. The talk will therefore take a whirlwind tour through the geology of these and other deposits, the mining and the difficulty in sample recovery and focus on the beauty of the recovered specimens.