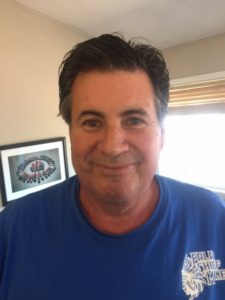 Jeff Swanger is a life long resident of the gem mining areas in southern California. Around 1983 he began working the mines in Pala with many of the remaining mining icons in the area, working closely with Phil Osborne at the Stewart mine to learn his dynamite and tunnel driving. He was fortunately to learn from some of the last of the old timers; George Ashly, Roland Reed, and Bob Dawson, to name a few. Roland Reed put up the artisanally worked Oceanview mine for sale in 2000 and Jeff knew he just had to take a dive into it, headfirst, with modern machinery and a real operation. Work began right away on the down dip area yet unmined by Roland's operations that he began in 1973. Jeff, using his experience from the business world, and experience earned by hands on working underground for over 30 years, combined his skills and opened Oceanview Mines LLC – today it is America's only working underground gem mine. His business model combines solid mining technology used at a scale never before seen in the San Diego pegmatites with a business plan that incorporates public fee-dig access to the tailings. This allows cash flow for the mine, and also helps to inspire and grow a new generation of collectors who come from all over the world to dig. Jeff was responsible for the largest Kunzite pocket ever found in North America, estimated at 1 ton of gem rough, found here in 2008.
Oceanview Mine – USA's Largest Operating Gem Mine
Around 1900, George Kunz identified what would later become the new gem species Kunzite and Morganite, both from a single large pocket on Chief Mountain, that we now know is actually the top of a large pegmatite vein within the Chief Mountain (my home sits atop this pocket, today!).  As a lifelong resident of the Pala area, I fell in love with the dream of chasing gem crystals and when it came up for sale in 2000, I took the opportunity to buy this property and install a modern mine with new entries and mechanized equipment. With the help of a large crew and my own investment, we have driven literally a mile of underground tunnel, and recovered nearly 1 ton of gem kunzite crystals plus tourmalines and quartz. In the process, we have rediscovered that old vein and are following it deep down into our Oceanview Mine, looking for the treasures that I know are still under the ground here. Unique among all American mines today, we are a gem mine that is open to the public. We bring our unsearched tailings and blast debris to the surface and let the public sort through it with sifters. Probably over 20,000 people have had the experience of finding their own gem crystals at our site and come from all over the world for this. We are the only large gem mining project remaining in the old San Diego gem district, and I enjoy sharing it with the public as much as I do the mining itself. I believe that such experience inspires the next generation of collectors.