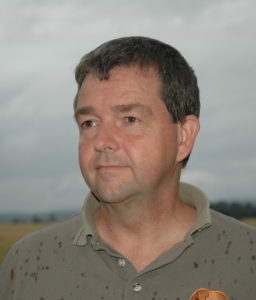 Peter Lyckberg is a lifelong mineral collector and a widely known author-lecturer in geology and mineralogy. He has worked professionally in many different fields including: mountain-ski guide, idea generator for the auto industry, civil engineer project management, and as a geologist. For the last 20 years, Dr. Lyckberg has been a senior nuclear inspector for the European Commission (Government of European Union), based in Brussels.
He is well-known as a field collector for his firsthand observations, documentation and discoveries at some of the most intriguing and difficult-to-reach mines in Asia and Russia (see his past Symposium lecture), in addition to his home in Sweden and throughout Scandinavia.
Pakistani Gem Crystals
Peter is an expert on worldwide pegmatite fields and has visited numerous mines in Pakistan. Since 1985 he has developed his contacts in the mountain regions of northern Pakistan and was the first Westerner to visit the best gem mines at high altitude in the Haramosh Mountains. His main field of interest is primarily a scientific one with attention to the genesis and mineralogy of granitic pegmatites in these young mountain ranges. He is treated as a "family member"  by several mining families and thus gets a rare firsthand insight into the local culture and traditions, an experience dramatically different from other westerners.