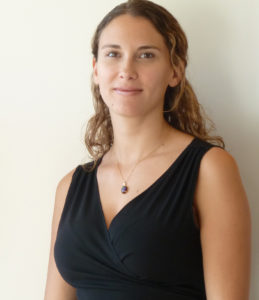 Dr. Eloïse Gaillou is curator at the Mineralogy Museum of « l'École des Mines de Paris » (Paris School of Mines), now known as MINES ParisTech. After a Master degree in Geology / Petrology, she received her PhD in Material Sciences at the University of Nantes (France) studying opals. She combined her PhD with a DUG (Diplôme d'Université de Gemmologie), beginning her work on diamonds. Dr. Gaillou continued studying diamonds during her postdoc at the Smithsonian, then at the Carnegie Institution, both in Washington, DC. She took the position of associate curator at the Natural History Museum of Los Angeles County in 2012, before eventually heading back to France in 2015 to take the position at the School of Mines, where she oversees the collection of 100,000 specimens and takes care of the permanent and temporary exhibits.
She fell in love with the Museum World when she began working as a postdoc at the Smithsonian. Since then, she committed to the preservation of mineral collections, as well as using them for outreach and scientific purpose. She is the Vice-President of the Society of Mineral Museum Professionals (SMMP) and a board member of the French Mineralogical Society (Société française de Minéralogie et Cristallographie). She tries to conciliate her curator's job and her ongoing research on diamond, not only for their remarkable color but also for what they tell us about the Deep Earth. Diamonds are indeed this girl's best friend.

Treasures in the French Museums
Museums represent the planetary repository of mankind's heritage. In museums, collections are stored, cataloged and preserved over time, making them inestimable treasures. They constitute a material available for research, which can also be completed and reinterpreted over centuries. They permit to have access to all the wonders of the natural world. And behind these treasures, hides the willingness of curious individuals.
In France, we can trace the enthusiasm of having a national treasure back to François the 1st, who founded the French Crown Jewels in 1530. In the Europe nobility, "curiosity cabinets" were fashionable from the 16th century on. King Louis the 13th created his own in 1633, which eventually became the Museum d'Histoire Naturelle after the French Revolution. With this presentation, we will embark on a journey through French national collections and collectors of minerals and gems. From one museum to the other, we will discover some iconic pieces, as well as some hidden ones. We will follow the stories of some curators such as the Abbot Haüy (first curator at the Ecole des Mines) or some collectors such as de Bournon, Sage or more recently Vésigné.